Hi Everyone!


Yesterday, I spent most of my time visiting, commenting and following blogs. It was FUN! There are soo many ideas and these  people are sharing it to the world. The annoying part was that I followed a lot of  bloggers but it didn't show up in my blog list then after refreshing my dashboard it was there  and then it was gone again. 


I think one common thing I noticed while blogwalking was that we  all love reading comments and growing number of followers makes us smile or even make our day. Do you feel the same way too?


I tried to follow all the blogs in the linky parties I joined because I don't want to miss any idea. I am  new to the Blog world though I started last year but I stopped and just came back. It is good to be back.


So I am marking Thursday as my stalking day. I will stalk one, two or more blogs. Let  me start from my first  2 followers. I have  been following these girls everyday and in a day I keep on coming back to their site. Isn't it stalking?!


Meet Karen from The Feral Turtle (http://www.feralturtle.com/.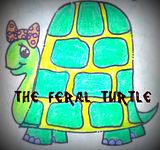 featuring some of her great creations!



My next follower is Roeschel  from The DIY Showoff. This gal was one of my inspiration and motivated me to start making my own blog. But she has no idea about this. 


featuring  some of her  great creations:


Thanks for being with me  today. 'till next week for another stalking day. See you!
Be inspired, be motivated. You are featured, please  grab below button.