Welcome 

to our Breaking Rules Party!

 Link-up your Etsy Shop, Give-away, Business, advertisements, sponsorship, Social Media, Projects, Blogs, and linky parties. Remember there's no rules so link and hop as much as you want. Sky is the limit. Let's get this party started! The most clicked will be featured next week.

You don't have to but I appreciate if you will add me to your network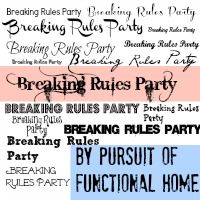 The most clicked last week 

Clean Lean Mommy Machine, authored by Jess and Lynns. These girls are like sisters. They've been best friends for a very long time. They have a passion for raising healthy families.  They are both Mom with kids and Health Educators. They draw inspiration from all areas of health and wellness. They share their life experiences to inspire, encourage and influence readers to live a healthy life.
Spinkle some love, visit Jess and Lynns. Expand your network by adding these two lovely women.



Let us WELCOME our New Sponsor!









Gaye, is the woman behind Calm.Healthy.Sexy. 
She is a wife, mother, sister and writer.
Calm.Healthy.Sexy is a place for married women who want to transform their hectic, hurried lives. If you want to feel calm and relaxed (most of the time!), eat well and strengthen your body, and feel sexy and enjoy a great sex life with your husband, then Calm.Healthy.Sexy is for you
She encourage everyone and herself to make one small change at a time as they move toward a calmer, healthier, sexier life.
These are few of Gaye's post that I really love. You should check these out.
8 Free Gifts to Give our Children
Make Sex a Priority
6 Free Gifts to Give Our Husbands
Don't forget to add Calm.Healthy.Sexy to your network and subscribe to her very inspiring articles. 
P.S. If you have a DIY/craft Projects,
Pin It MOnday Hop
is still OPEN. Link up, Pin and get pinned.