Welcome to our Breaking Rules Party!
Link-up your Etsy Shop, Give-away, Business, advertisements, sponsorship, Social Media, Projects, Blogs, and linky parties. Remember there's no rules so link and hop as much as you want. Sky is the limit. Let's get this party started! The most clicked will be featured next week.
You don't have to but I appreciate if you will add me to your network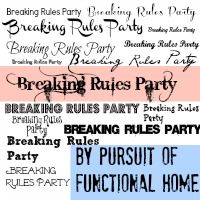 The most clicked last week 
She is newly married to her childhood sweetheart, mom to a sweet 4 and 6 year old, running, DIY crafting and organizing, decorating, recipes and shares her love for clothes and fashion.
 Meet our May Sponsor
Calm.Healthy.Sexy is a place for married women who want to transform their hectic, hurried lives. If you want to feel calm and relaxed (most of the time!), eat well and strengthen your body, and feel sexy and enjoy a great sex life with your husband, then Calm.Healthy.Sexy is for you