Hi Friends!
We are very excited to share our favorite picks from Pin It Monday Hop#12 and 13. Yay! it's a double feature! We salute you for sharing it to all of us. It is always fun to view all your projects and read your post.  You never fail to astonish us. You are wonderful and gifted with creativity.
Without further ado, here are the Top 10 Featured Projects from Pin It Monday Hop#12 and #13. Enjoy!
CO- HOST
Danielle's Favorite Posts
———————
This is a great way to keep kids excited about reading while keeping track what they have read!
Summer Reading Printables and Book List
by: Meredith from A Tipical Day
 I would never have thought to wrap a lamp shade skeleton in twine but this looks great!
Yard Sale Lamp Re-Do
by: Katie of The Crafty Blog Stalker
Here's a practical way to spice up a wall without the mess of painting!
The Renters Chevron Wall
by: It's always Ruetten
 I think these cookies are fantastic because they are easy to make and they look so yummy!
Lemon Head Cookies
by: Cathy of  A Peek into My Paradise
Here is a beautiful & feminine way to decorate a gift box instead of using a bow!
Paper Flower
by: Priyam of Simple Joys
Use these gorgeous & easily customizable flowers in a table centerpiece to cheerfully brighten up a room!
"Tape It" Paper Flower Tutorial
by: Jenny of Lakeshore Stamping
CO- HOST
Miriam of My Adventures with my 2 Kids
Miriam's Favorite Posts
———————
 Awesome! This could also be used as end tables in your bedroom.
DIY Patio Table or End Table
by: Shelly of Minettesmaze
Way to save money on a door. A door like the one they made would of cost over $300. Job well done
How to Economically Replace Leaded Glass in Door
by: Jodi of  Second Wind of Texas
That looks delicious!!!! I'm going to try this.
Quinoa Love, and a Fruity Quinoa Loaf
by: Jenn's Random Scraps
Great Wedding wagon gift!!!
Zech's Wedding Wagon Redo
by: Shelly of Minettesmaze
Great bathroom makeover
Bathroom Makeover – Reveal!
by: Bonnie of The Pin Junkie
Yum Yum found a great dessert to make for the family
Cookies and Cream Cheesecake Cupcakes
by: Allyson of  Domestic Superhero
CO- HOST
 Trish of Tales From Trish
Trish's Favorite Posts
———————
 DELICIOUS and EASY?!? This has my name written alllll over it!
4 INGREDIENT DIY THIN MINT COOKIE RECIPE
by: Nicole of Mama to 3 Blessings
 I DIE! I'm dipping everything I own in gold this weekend! I <3 this hard!
DIY Gold Dipped Vase
By: Elizabeth of Real Inspired
The name alone makes my mouth water! #yum
Fluffernutter Brownie Batter Ice Cream
by: Nat D.
Cute and Fun for the kids…and the Kids at Heart. Very Summery!
Butterflies – healthy dessert with fresh fruits on a stick
By:  Gosia of Kiddie Foodies
How festive and cute! Love this!
July 4th Drink
by: Tracey of We Made That
This has been on my DIY list for forever. I love the idea and look of these wine glasses
Chalkboard Wine Glasses
by: Michelle of  On Wing and Prayer
HOST
Judy of Pursuit of Functional Home
Judy's Favorite Posts
———————
I salute Daja for sharing her beautiful story about breastfeeding. I am nursing our little boy for a year now and it takes a lot of sacrifice, patience and support from the family. Indeed, not an easy task.  The mother should be prepared and trust her body. 
Preparing for Breastfeeding
by: Daja of The Provision Room
Mouthwatering, delicious breakfast  just like this one will surely awaken your senses and will start your day right with a smile.
Best-ever Strawberry Cream cheese Breakfast Cake
by: Megin of VMG206
 I hope you enjoyed our featured projects as much as we did. Thank you so much for being with us today. Watch out for the opening of Pin It Monday Hop #14 tomorrow, Sunday at 5pm CST.
Sprinkle some love, don't forget to visit our featured bloggers. Have a great weekend!
Grab, Wear It, Be Proud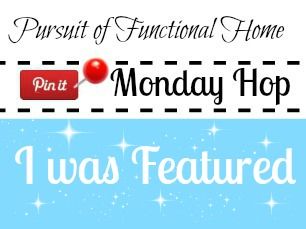 <div align="center"><a href="http://" title="Pin It Monday Hop I was Featured" target="_blank"><img src="http://i1293.photobucket.com/albums/b584/pofh1/PinitHoplogoFeatured_zps319554bf.jpg" alt="Pin It Monday Hop I was Featured" style="border:none;" /></a></div>