Hello everyone! We just love to feature your project! It is time once again for our Top 10 Project Features from Pin It Monday Hop#11.  Thank you so much to all who linked up last week.
Trish favorite post (Tales fromTrish - Co-host)
Gorgeous! I can see this as part of my home decor already!
Who doesn't love cake and candy all in one?! I want this for my next birthday
I have 1,345,678 of these containers around my apartment. So many great ideas on this post. Genius & Creative!
Miriam's favorite post (My Adventure with my 2 Kids- Co-host)
Didn't think that adding a deck could cost under $300 they did a great job
Awesome idea of how to transform the dresser into an island table.
yummy I would like to try this
Danielle's favorite post (My Snippets of Inspiration – Co-host)
I really enjoyed this post because the lamp turned out beautifully and the writer is exceptionally honest about her work!
This was a great post because of the new ideas that will make my laundry chore MUCH easier!
I love this post because of the clear instructions and bright pictures!
Judy's favorite post (Pursuit of Functional Home – Host)
I like easy and fool proof recipe that I can whip up in no time. I like the thought that my Guest would think I put so much effort into it.
Thank you so much for checking out our Top 10 Features from Pin It Monday Hop#11. Our latest Pin It Monday Hop#12 is still open. Have a great day! See you there!
Grab, Wear It, Be Proud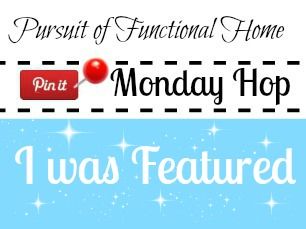 <div align="center"><a href="http://" title="Pin It Monday Hop I was Featured" target="_blank"><img src="http://i1293.photobucket.com/albums/b584/pofh1/PinitHoplogoFeatured_zps319554bf.jpg" alt="Pin It Monday Hop I was Featured" style="border:none;" /></a></div>