Welcome to Pin It Monday Hop#32
Our life is going back slowly to normal now. We still have aftershocks and yes, it still makes my heart race. Tourist started to come back to Bohol Islands. It is mind-boggling why the resorts their have very little damage compared to those in other towns of Bohol. The corals have little to no traces of damage too. Because of the 7.2 Magnitude earthquake that hit last October 15 Tuesday, the tourism in Bohol Island died in an instant but now they are recovering. Some resorts are offering great deals which I think the best time to really enjoy Bohol at a cheaper price. Bohol Island has great beaches and a lot of nice places to explore. I can remember that we visited the Bee farm and we ate some salad that has flowers in it. We also went to Loboc River and got close encounter with the Tarsiers ( one of the smallest primates on earth). It was an awesome experience. I actually want to go back to Bohol someday.
Again, thank you so much for sharing your creative projects, delicious recipes, amazing photography, inspirational journey and tips with all of us last week 
We are still pinning your entries to our Pinterest Board: Pin It Monday Hop Participants. I am pinning the whole week!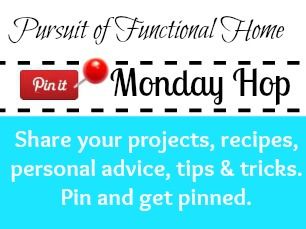 What have you been up to lately?

Enter your Pinterest Profile URL
(www.pinterest.com/PROFILE URL)
Please check your Profile Name below, if it exist then you do not need to re-enter it again.
This is a Pinterest Hop. Follow as many Pinners you want
Want some Free Craftsy Classes? All you need to do is sign-up.