Wow! There were so many great post from last week's party. As always, we had so much fun checking on them.
Featured post will be re-pinned to our Featured Post Pinterest Board.
Without further ado, here are the Top 10 Featured Posts from Pin It Monday Hop #41 plus the most clicked post.
Thank you so much for linking up and we'd love to see you again at the next party
Be sure to visit each one of the featured post below:
White Cake with Brownie and Caramel Center Cake by ohmrstucker.com picked by Veronica
Homestead is about TRYING by Bornagainfarmgirl.blogspot.com picked by Jen
Dryer Vent Cleaning by katiescrochetgoodies.com picked by Meg
How to Create a Fun Date Night by Spit and Sparkles picked by Heidi
Muffin Tin Rice and Spinach Cups by lorisculinarycreations.com picked by Kristin
Changing the Availability of Fruits and Vegetables by jodiefitz.com picked by Chelsey
Photo Scrapbook Calendar by apeekintomyparadise.com picked by Darlene
How to Double Your Blogs Page Views in 2014 by Blogging on the Side  picked by Sofia
5 Goal Setting Resources by savingssarah.com picked by Miriam
Tortellini with Greek Yogurt and Mushroom Sauce by dizzybusyandhungry.com picked by Melissa
My Top 10 Blogging Resource List by kraftycardsetc.com/ (Most Clicked)
Watch out later for the next Pin In Monday Party. It's live every Sunday 5pm (CST) until Friday Midnight (CST). See you at the party
Grab, wear it, be proud!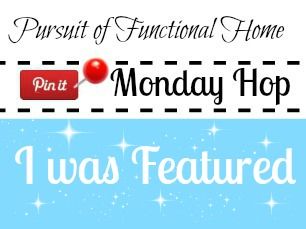 <div align="center"><a href="http://" title="Pursuit of Functional Home"><img width="125" src="http://i1293.photobucket.com/albums/b584/pofh1/PinitHoplogoFeatured_zps319554bf.jpg" alt="Pursuit of Functional Home" style="border:none;" /></a></div>